Above: The proof-of-concept hydrogen powered ultra-class mine haul truck at Anglo American's Mogalakwena Platinum Group Metals mine in South Africa. Image courtesy of Anglo American.
The one-year anniversary of the world's first and largest zero-emission vehicle on May 6 was a major moment of reflection for First Mode. Powered by a hydrogen fuel cell and battery powerplant designed and built by First Mode, the truck's successful year of operations demonstrated that the proof-of-concept is a viable alternative to diesel.
While the proof-of-concept has undergone testing and demonstration at an active mine site in South Africa, First Mode has been hard at work bringing the nuGen™ Haulage Solution–including truck retrofit kits and the associated infrastructure for hydrogen production, battery recharging, and hydrogen refueling–to market.
Look back with us as we track the impact of our work to eliminate diesel in heavy industry, starting with mining, and where we go from here.
---
Press Release: First Mode Powers World's Largest Zero-Emission Vehicle for Mining Giant Anglo American (May 6, 2022)
Following design and assembly by First Mode engineers in Seattle, the successful debut of the haul truck at Anglo American's Platinum Group Metals mine site in Mogalakwena, South Africa was a monumental milestone not only for First Mode and Anglo American, but for heavy industry's transition to clean energy.
For the first time, hydrogen fuel cells and batteries were combined to create a powerplant the size of a small school bus for a three-story tall truck weighing 200 tons empty. With large trucks accounting for 70-80% of diesel consumed at Anglo American's mine sites, the diesel-free truck became immediate proof of viable fossil fuel alternatives.
"I'm so proud of the team and our partnership with Anglo American, focused on decarbonization at the source to affect the meaningful, necessary change we all seek," said Chris Voorhees, Co-founder and Chief Product and Technology Officer of First Mode. "We hope that this zero-emission clean energy breakthrough will inspire others to create significant action in the fight for our planet."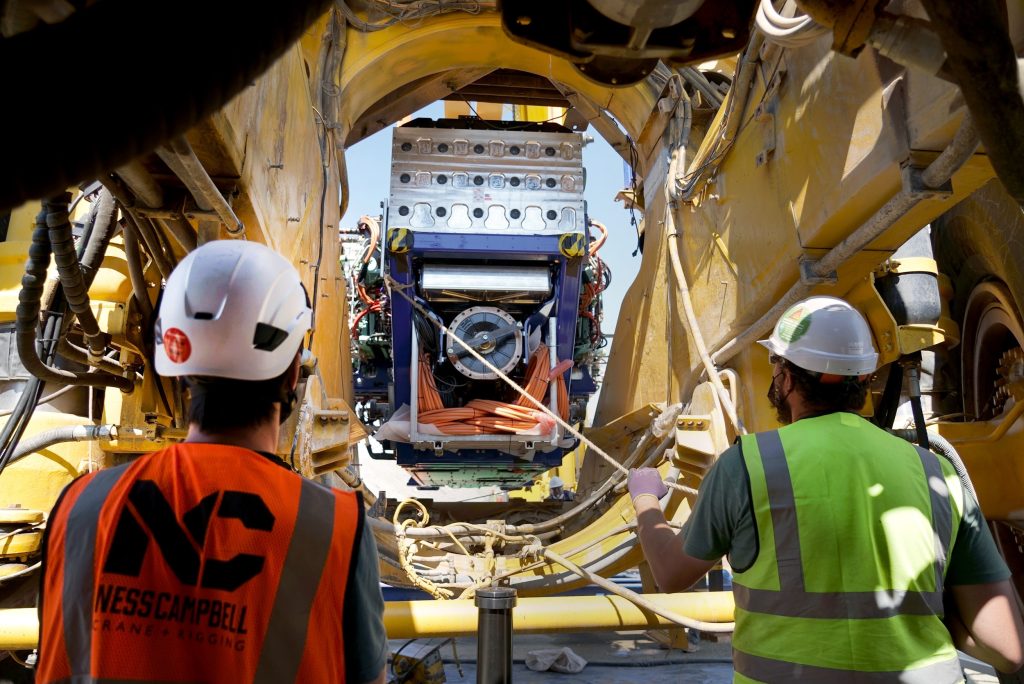 Blog: Get to Know the Innovative Clean Tech Powering the World's Largest Zero-Emission Truck (May 9, 2022)
Following the launch, we chronicled our journey to the end product, covering the key challenges and solutions of the proof-of-concept since Anglo American first contracted First Mode to study the viability of hydrogen and batteries as heavy vehicle power sources.
GeekWire: 2022 GeekWire Awards revealed; community celebrates big winners in Pacific NW tech (May 13, 2022)
First Mode was honored with Innovation of the Year at the 2022 GeekWire Awards. Presented annually to a breakthrough that could change the way we live, we were recognized for the truck's decarbonization efforts.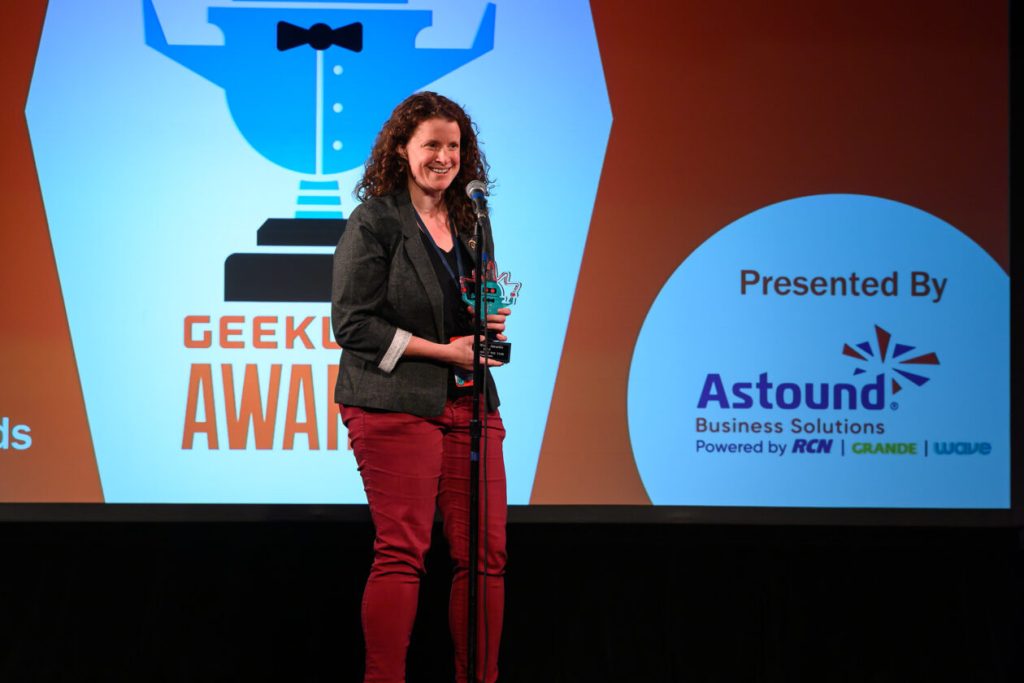 CNN: The world's first hydrogen-powered haul truck could help clean up the mining industry (October 10, 2022)
CNN visited First Mode's Seattle office and research and development space for a feature in CNN International's Inventing Tomorrow series, which highlights companies inventing new ways to solve the world's greatest climate challenges. CNN covered our journey to decarbonizing heavy industry, including how we designed and built the hydrogen-battery powerplant.
Press Release: First Mode Establishes Proving Grounds in Centralia, Washington for Ultra-Class Haul Trucks (October 25, 2022)
To support optimization of the next generation of nuGen™ trucks, we established a first-of-its-kind proving grounds in Washington state. The Proving Grounds, located at the site of a former coal mine now undergoing reclamation, enable us to demonstrate the next generation of our nuGen™ haulage solution in a true mining environment. "The First Mode Proving Grounds in Centralia is a critical next step in our mission to help heavy industry eliminate diesel and transition to clean energy," said Chris Voorhees.
Press Release: First Mode Secures $200 Million in Funding from Anglo American and Combines with nuGen Team (December 7, 2022)
We ended 2022 with major news: a $200 million investment from Anglo American and a binding agreement to combine Anglo American's nuGen™ zero emission haulage solution with First Mode. Additionally, we announced Anglo American's order for approximately 400 nuGen™ systems over the next 15 years. Upon the transaction's close on January 5, 2023, Julian Soles took the helm as First Mode CEO and we opened a new office in London.
Fast Company: The world's largest zero-emissions truck is more than two stories tall (January 24, 2023)
Covering not just how we retrofitted a colossal mining haul truck with a clean energy powerplant, Fast Company also highlighted how our nuGen™ solution includes supporting infrastructure–and how First Mode's zero-emission technology challenges a 100+ year status quo in the business.
"We need to help the customers with the full solution–you can't turn up with a hydrogen truck if there's no hydrogen," said Julian Soles. "They need to refuel, and so on. So we really take that whole problem . . . we want to help them do the whole flip."
Press Release: Ballard & First Mode sign order for 30 additional hydrogen fuel cells for diesel-free mining trucks (March 1, 2023)
We partnered with Ballard Power Systems to procure 30 hydrogen fuel cell modules–totaling 3 megawatts–to power several hybrid hydrogen and battery ultra-class mining haul trucks that will debut at the First Mode Proving Grounds.
"Every one of the Ballard fuel cell modules that First Mode retrofits into an ultra-class haul truck means an immediate reduction in diesel fuel use, and moving the mining industry another step closer to decarbonization," said Julian Soles.
Following initial commissioning, the proof-of-concept truck was introduced into the mine's commercial fleet operations, including pit and crusher activities. As shown in February 2023, the truck is loaded by the Mogalakwena TZ electric rope shovel in the central pit. Nearly 300t of ore is loaded in three bucket passes, before leaving the mining area to unload–demonstrating its viability compared to traditional diesel systems.
With the proof-of-concept truck now a part of First Mode's legacy, we're building upon our innovation to continue making seismic, systemic change to heavy industry. In service of commercializing the nuGen™ Haulage Solution, we're building a 45,000-square-foot manufacturing facility in Seattle where we'll manufacture the nuGen™ hybrid hydrogen and battery engines; Our Proving Grounds will continue to scale, with anticipated demonstrations of our systems in Komatsu 930E and 830E platforms beginning in early 2024.
To stay updated on the latest First Mode news as we continue to decarbonize heavy industry, follow us on LinkedIn, Twitter, or Instagram.